Get in on the Fun
Register for our Week Long
Full Participation Cooking Class
While There is Still Space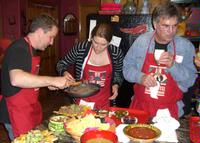 We still have a few openings in our award winning full participation cooking week long cooking school set for July 10-15, 2011.
You will have loads of fun cooking with chiles, learning hints, secrets and tips for Southwestern cooking while making tamales, sopaipillas, chile rellenos, Moles, Tres Leches Cake, Flan and much, much more. The complete menus are on my website under cooking schools, at www.janebutelcooking.com.
Register online or call me at 505-243-2622.
Check out our Calendar Dates for 2011 for our Week Long, Weekend Classes and our Northern New Mexico tour.
We will be adding more classes and tours. So keep checking our home page at www.janebutelcooking.com.