Chile Beef Taco Filling: This is my favorite taco meat. If you like mild chile flavors, you may wish to add the mild chile first and determine the need for the hot. Full Recipe




Caliente Carnitas: Carnitas are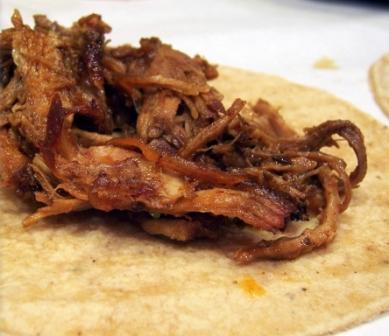 terrific to make in batches and freeze in serving sized quantities-thawing whenever you wish for great snacking! (Of course, you can make a half or even one-third recipe if you do not want to freeze them.) I like to dip them into a salsa-often serving two different salsas for variation. Full Recipe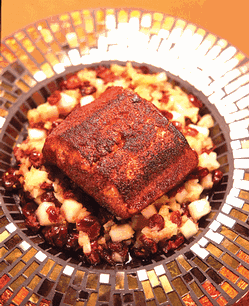 Chile-Seared Salmon: Salmon is terrific this way and so fast and simple. I used to put a bit of salt with the rub, but I have found that it really is not necessary. I like this equally well with ground chiles or chipotles. Full Recipe
Strawberry Salsa: The refreshing flavor of strawberries make for a light, wonderful salsa. You can serve it as a dipping salsa with tostadas or with cucumber and celery spears. I also like it served with most any fish or chicken dish. Full Recipe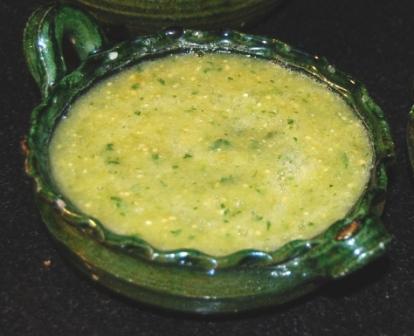 Salsa Verde: An old Mexican favorite that is good over almost any meat or tortilla dish. Tomatillos, available in Mexican specialty shops, should always be used. Don't substitute unripe green tomatoes, because they lack the subtle, sweet taste of the tomatillos. Full Recipe

Join the Cooking Club for Just One Dollar
And get many more delicious tested recipes every month, wines for bold foods, freebies, discounts and more. You just have to join now!
Sign Up Now for Our On-Line Class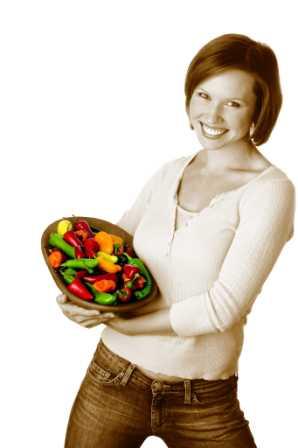 If you can't travel to Corrales, New Mexico, why not take our online "All About Chiles" class? Our goal is to launch one each month. They are very educational and informative. Just think--you get 40 different lessons, with over 100 well tested recipes now for just $150 economic crisis special pricing. (Our former price was $499 and included a supply kit.) The $150 bare bones special does not include the kit.

When you think about it, each of the 40 modules on our super special only costs a little over $3.75. We have interactivity, a chat room and a discussion board. For a complete rundown of the modules within the classes click here. Sign up now to get our special price and it will be good for one year.
April Weekend Class Includes Vegetarian Options
Lately we have had several requests for vegetarian variations to the traditional favorites we feature in the weekend class. Our April 24-26 class will feature these variations alongside the traditional recipes. This is a very special dual weekend for half price, so get in on the fun and register while there are still spaces. The half price cost is $525.00. (We had mentioned that we were featuring Innovative recipes, but they lost out to the traditional once again.) Call with any questions to 1-800-473-8226. You may register online or by calling.
Get Your Gift Boxes and Certificates From US
Since Mother's Day and graduation gift giving is just around the corner, keep us in mind for those cooks on your list. Also, don't forget shower gifts, birthday or anniversary presents. We make custom made gift boxes for $25.00 and above, plus shipping. Click here for products.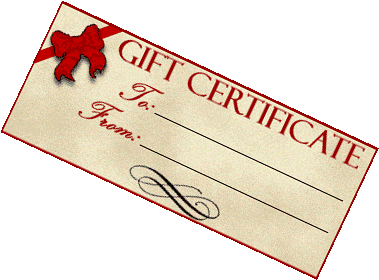 Also, gift certificates are popular for our classes, for either our live or on-line, our products and autographed cookbooks and even our cooking club. We can create them for most any price range above $25.00. This will save you shopping and driving time!

Any of our classes or tours make outstanding gifts. Also, you can buy a gift certificate for any amount. Purchase them through www.janebutelcooking.com or by calling 1-800-473-8226.
You Gotta Join US in Oaxaca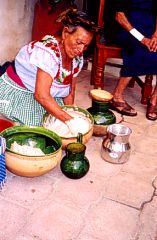 Oaxaca has always been one of my favorite places for a delicious foodie time amidst beautiful and historic surroundings. You really should join us this year June 2 through 8 for three full participation cooking classes, market tours, a visit to super historic Monte Alban, plus visits to special pottery and colorful wood carving villages. We have cut our price by $400. Click here to register