Recipes for the Month
Brushetta with Black Bean Salsa Fresca

---
CHILE ORDERS
Order your fresh, pure chiles and spices NOW!
SPECIAL TAILGATING DAY GIFT BOX
Tailgating parties can all of a sudden "Get a whole lot easier and more fun" with this fun to give or receive Gift Box.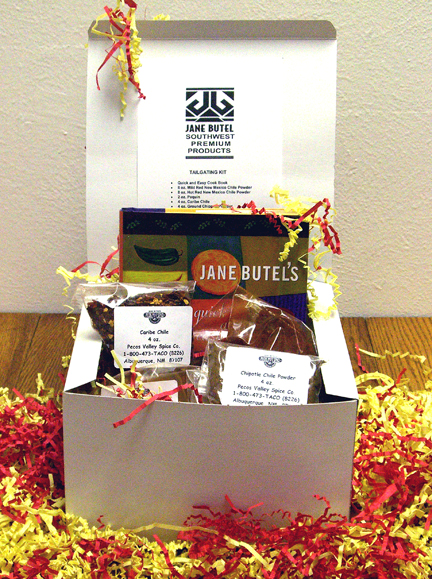 Our special Tailgating Gift Assortment, normally $47.00 is now on sale for $39.00. (PRICE GOOD UNTIL September 15 AT MIDNIGHT.) Included in the set is my popular Quick and Easy cookbook, 8 ounces each of Mild Red and 8 ounces of our pure Hot Chile, 2 ounces of Pequin Quebrado, 4 ounces of Caribe chile and 3 ounces of our Ground Chipotle Chiles. All of the chiles are fresh and pure and promise to flavor lots of great dishes for your tailgating fun!
Order now while there is still time for scheduling optimum delivery!
Schedule Now:
Last month's cooking class at Builders Source was super successful! We all had lots of fun and a good time was had by all.
Builder's Source is a gorgeous appliance store in Albuquerque at 308 Menaul NE. We can only take 30 reservations for each monthly class.
The September menu will feature Fall Brunch dishes including my favorite Sonorran Sauce for Huevos Rancheros and a very special Chile Crusted Quiche.
Call 505-243-2622 to register--or register online. If you have any questions, you can email us at info@janebutelcooking.com.
ALWAYS EAT CHILES AT LEAST 24 OUT OF 30 DAYS!
Have a great month! JANE BUTEL