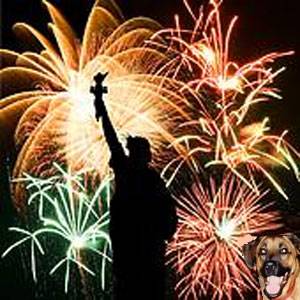 July 4th is such a great time to be with family and friends and enjoy summer's bounty. I think so often, we get stuck in a rut when it comes to the menu for this great get together to celebrate our nation's birthday.
Creative tacos are always popular. Whenever I teach a class such as taco-mania—the popularity never ceases to amaze me. Tacos have gone through a real renaissance—no more the typical chile-flavored hamburger in a crisp shell.
With this popularity—I thought each of you might like having the recipes for my favorite tacos and more! I like to set up a large platter of toppings—pickled cole slaw (Nine Day Cole Slaw recipe), red and green salsas, sour cream, pickled jalapeno chiles and perhaps grated or crumbled cheese (I frequently omit the cheese). And, yes—I like cabbage much better than lettuce for meat-laden tacos. My favorite is slow-roasted Pork Shoulder—it is amazing—so tender, juicy and delicious.
By the way—I never fry the taco shells any more—I prefer warmed freshly made corn tortillas. I generally warm them on a comal or in a plastic bag for a minute for 8 corn tortillas.
Fish tacos of almost any kind are wonderful too—from seared Ahi tuna or salmon to tilapia or crispy coated fish sticks for a really quick and nutritious taco.
For a delicious side dish, try our Lime Rice and perhaps more of our wonderful Nine Day Cole Slaw.
My dessert for the Fourth will be a yummy Cherry Crisp topped with French Vanilla Ice Cream. And, the cherries came right off my tree—which was loaded to the "nines" this year with fabulously flavorful Montmorency pie cherries. I bet your local Farmer's Market just might have these cherries still for sale.
Our July 17-19 weekend and August 17-21 week long full participation cooking classes, still have a few spaces at half price or $525.00 for the weekend and $975.00 for the week long!!
Order our fresh pure chiles for great chili, barbecue and summer fun. Remember—lots of red chile in a dish gives it greater keeping quality—as red chile is the world's best antioxidant.
Register online or call me at 505-243-2622.