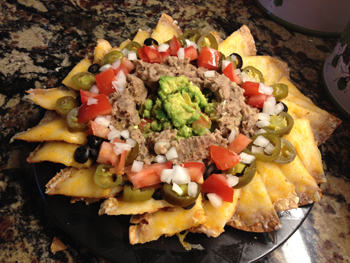 With the cold winds blowing, there is nothing better than a hot, steaming bowl of chili. I particularly like the Bowl o' Red with Fixin's 'n Mixin's. And—nothing is finer than Blue Corn Parfait Bread with the layer of Monterey Jack cheese oozing between layers of double corned yummy, buttery corn bread. Start with Composed Nachos (pictured) for extra fun.
If you are a football fan and enjoy the "Big Game" coming this Sunday, why not make some chili for yourself and friends. Or if you are indifferent to football, make some for delicious and spicy lunches and dinners.
News, News News
We are having a one day class, February 13 for a very special price of $100.00 for our New Mexican Favorites. The class features Red and Green Enchiladas, Baja Shrimp Tacos with fresh Corn Tortillas and Pickled Cole Slaw, Crispy Chicken Tostados, Homemade Flour Tortillas, and Sopaipillas and of course—Perfect Margaritas.
Many of you have been asking about when and if my "Southwestern Kitchen" cookbook would ever come out again. Great News! It is coming out in an updated form next October, followed by the publication of my newest book I just finished writing last week, called "Simply Southwest". You can start a collection of the entire 9 books being published. Every 4 months during 2017 and 2018 an updated book of my former best sellers will be published. I will be taking orders. If you order from me I will autograph each book as you like.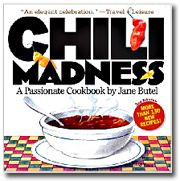 Cookbook Sale—For chili inspiration, buy my new second edition "Chili Madness" for a huge collection of chili recipes and yummy recipes to complement chili from appetizers to drinks to desserts—even leftover ideas. Price is only $10.00 for 200 pages. Order Now.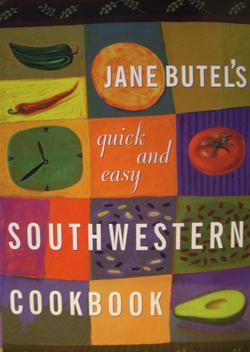 For 20 minute recipes with
an average of 5 ingredients, my "Southwestern Quick and Easy" cookbook will fill the bill. And it is on sale for half price and has 240 pages. Order Now.