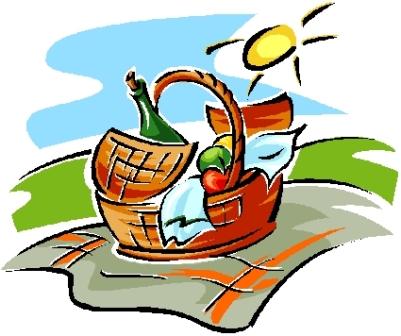 I have always loved June—my all 'round favorite month. The world has suddenly become more beautiful—greener grass, fragrant roses and all other brilliantly hued flowers abound—fresh as the proverbial daisy before hot winds and drying weather take their toll.
There is so much that is happy and fun, bringing forth the desire to get together for celebrating. Whether it s a wedding, an anniversary, shower, birthday, graduation or a celebration of the beginning of summer or summer solstice—June is literally the time to "bust out all over".
I think party food that stays delicious looking for at least two hours bears some planning. Who wants to eat dried, curled up pieces of cheese or soggy crackers, and the like? With these thoughts in mind as well as the climate where you live—the foods you serve will be guided by either the dry air such as in New Mexico or soggy air as in the Midwest, South and back East.


One good idea is to place limited amounts of food on each platter when you serve—don't try to place a large amount that will not keep well. Also, refrain from using quick to wilt lettuces and greens. Don't compile bruschettas or canapes in advance. Plan bite-sized servings so that the arrangement, casserole or bowl doesn't look forlorn after the first hour.
Here's some favorite party foods and great, hearty and simple recipes for the best ever Brisket and fabulous Beans to serve with it—Southwestern style—great fun for Father's Day.
News Flash!!
We have just added one more week long session June 19 – 24 and also have the July 10 – 15 week long class.
And, we have added a NEW weekend class, starting on Saturday evening, instead of Friday. The class starts Saturday, June 25 at 4 PM.
Father's Day is a perfect time to order our Special Grilling Gift Box with an autographed book or a gift certificate for any amount above $25.00!