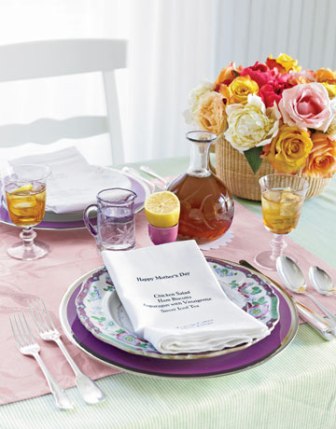 We have lots of special, fun classes coming up! Our May 16-18 Weekend Full Participation Southwestern Cooking Class, which is just around the corner has a few openings that we are discounting to 50% off.
AND….our very special Mexican Riveria cruise has an urgent deadline of May 31, 2014. If you do not get registered by then, you will not be able to join in the fun as that is the absolute cutoff date Holland American has set for this "once in a lifetime" special culinary cruise with me on the Veendam. To register, just go to the website, www.janebutelcooking.com and select the link below the photo of the ship in the left side bar or call Natalie Mead at 1-855-699-1799.
We have a great early bird discount for our NEW week long class, August 17-22, 2014. For registrations by Mother's Day, we are offering 10% off plus a $100 gift certificate for a shopping spree of our books and products—a $299.00 value or total class cost of $1755, plus the free $100.00 gift certificate.
With Mother 's Day just around the corner, we can really help you out with meaningful gifts that keep on giving. We are offering a whole range of memory giving items that will let your Mother know just how much you really care. (And, you Mothers can hint for what you would really like.) There is a lot to choose from…a week long class, weekend classes, cruise to Mexico— , a gift box or a gift certificate of any amount from $25.00 up to be used on our products or applied to classes.
Mother's Day has early, early roots back to ancient Greece. However, Mother's Day as we celebrate it was begun in 1908—introduced by Anna Jarvis, through very diligent work to influence congressmen, ministers and other influentials. She finally got a Presidential proclamation in 1914 to make Mother's Day official on the second Sunday in May. Her driving force was that she felt children do not appreciate their Mother's enough while they are still living.
JOIN ME AT THE WHEELS MUSEUM 100RH ANIVERSARY GALA, JUNE 14, 2014--I have been asked to create the menu and direct the catering, using some of my most requested recipes for the 100th Anniversary of the Santa Fe Railroad Roundhouse in Albuquerque. I am working with the El Bruno Restaurant at 8806 4th St. NW to prepare the food. (I accepted the honor as my Maternal Grandfather was the executive largely in charge of the railroad coming to Albuquerque and locating the roundhouse here.) We would love for you to join us. To purchase seats for the dinner and the festivities, SEND $100.00 for each reservation to Wheels Museum, P O Box 95438, Albuquerque, NM 87199 or call 505-243-6269 or email Leba4@aol.com.
Mother's Day menus –
Mother's Day at home is always more special—especially if my family prepares it as a treat. However, I have never been one to stand on ceremony and having a very small family of one daughter, Amy and only one brother—I often prepare it myself. I still enjoy it a great deal.
If you don't get around to preparing these dishes for your Mother's Day, then tuck them away for a brunch or dinner later.
Mother's Day Brunch
I like this menu, because it is very easy to prepare—if the cupcakes were made the day before. You can use any favorite quiche filling if you wish to substitute for the chorizo and it can be prepared the day before for baking on Mother's Day. Once the tortillas are crisped, the nachos are very quick to do. This menu is a breeze. Serve Mimosas made from champagne and orange juice or Silkies, a Mexican variation of Remus Fizzes.
Mother's Day Brunch Menu
Mimosas or Silkies
Fruity Nachos
Chile Crusted Chorizo Quiche
Spicy Chocolate Chile Cupcakes
Mother's Day Dinner
No matter whether this menu is made by your family or if you, the Mother, make it for yourself—you will find it is very easy, flavorful and very little last minute "fussing". It is a great patio or outdoors menu that is designed to be made entirely outdoors—however if it rains or you do not have a grill or patio—it is oodles of fun indoors too.
Grill the bread the day before and prepare the bruschetta topping. Pound the chicken and mince the herbs for the potatoes and the chicken the day before. Prepare the tortilla croutons and salad dressing and rinse the lettuce. Slice the pineapple in half.
You can serve this menu very easily buffet style. So think through the serving dishes and wait until one hour before you wish to serve.
Mother's Day Dinner
Champagne
Chevre Bruschetta with Black Bean Salsa
Rosemary Garlic Grilled Chicken Breast, Tuscany Style
Italian Herbed Roasted Potatoes
Caesar Salad with Cilantro Cream Dressing
Spicy Broiled Pineapple
One hour before—
Place the grilled bread for the bruschetta in a 150F and keep warm.
Marinate the chicken. Slice the potatoes and place on baking sheet and prepare for baking or grilling.
Slice the Romaine lettuce wedges and place in refrigerator--if room place on salad plates or stack plates and refrigerate.
Just before guests arrive or dinner is going to be served, prepare the bruschetta—a family member or guest could do this as well.
Thirty minutes before serving dinner, start grilling the potatoes.
About 10 minutes before serving, grill the chicken and garnish the salad.
After dinner, grill or heat the pineapple.