Jane's Message October, 2011
NEWS
DEMONSTRATION CLASSES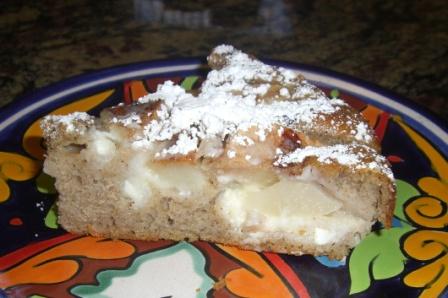 I would love to see you at my Demonstration classes at Builders Source in Albuquerque, NM. Do register and come on by. I have been amazed at how travelers to our area are coming. They are on the 4th Thursday evening of every month at 5:30 PM. Pear Breakfast Cake

In November 17 we will feature a Tamale Roll Party and on December 22, a New Mexican Holiday favorites class. You can register on-line or call us at 505-243-2622.
Brand, spanking New Classes at the Hispanic Cultural Center.
They will start November 3 with a very special New Mexican Holiday Favorites class, which will be repeated on December 3. The classes will continue with a series of Southwestern cooking hands on classes in February and our participation in "Women and Creativity" in March. You can register on line with my cooking school or by calling 505-243-2622.

RADIO
Tune in to my bi-weekly radio show on KKOB Sundays at 1 PM MDT. We had a fun, fun show last Sunday and will repeat on October 16 and 30. It is a one hour show with call-ins at 505-243-3333 are very welcome. The shows are quite lively and fun—if you have any culinary or homemaking questions or hints and tips you would like to share—call us and by all means listen to 770 on the AM dial and on streaming. I most often have a guest from the food or home appliance fields and share lots of recipes, hints and tips.
Our Blog Talk radio show is continuing with Jim Hammond the Southwestern Wine Guy. We love call-ins and the number is 347-855-8335. You can listen at 5:30 MDT every Tuesday or listen later to the archived shows. We feature recipes and complimentary wines to accompany.
HOLIDAY SPECIALS
Remember that someone special with a Gift Certificate (call 505-243-2622 to order) for a Cooking class or a Gift Box with one of my autographed cookbooks and a collection of our pure spices. Each is discounted 20%.
With fall tingeing the leaves of the trees and the evenings becoming cooler—tailgating for sporting events and our world famous Balloon Fiesta come to mind. I am going to share some favorite recipes for a fun fiesta of your very own. The most popular item here at the Fiesta is the Green Chile Breakfast Burrito and I am enclosing the recipe I did for national television a few years ago. Also a Blue Horizon menu for delicious blue corn crepes with a Blue Cheese sauce—umm-um good.
Try our recipes, by clicking on the links to the left.