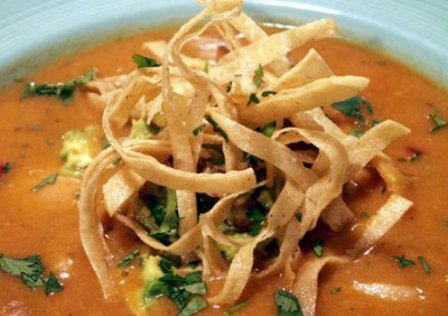 Chili is one of the most forgiving foods. It improves with age and nearly any and every ingredient can be included….from all kinds of veggies to any kind of meat or none at all and perhaps a starch such as beans or rice can be included. Chiles, the pods, in one form or another must be included. (Pictured is Mexican Tortilla Chili.)
Of course, this diversity in chili ingredients has evolved with giant steps in the last several years.
The original chili or cowboy stew was the "Bowl of Red" which was all about pure ground red chiles, cubed beef (never hamburger),onion, garlic and cumin. My maternal Grandfather who was a railroad executive with the Santa Fe, always explained how beans and tomatoes got into chili. You see, chili or Bowl of Red fueled the cowboys on the long trail drives from Southern Mexico or Texas to the rail head in Dodge City, Kansas. If the pot was getting kind of "thin" and the group was quite a distance from the rail head, pinto beans were added to stretch out the chili. Then as more and more beans were added, tomatoes were added to bring back the red color. (Most probably, they did not have red chiles with them.)
Chili of any kind freezes very well. I like to freeze in pint freezer bags and freeze them flat, then rack the bags like books on a shelf in the freezer. You can make casserole dishes, tacos, burritos, some even make enchiladas and stuffed potatoes and more. My latest, "Chili Madness" cookbook, rev. 2 has 182 pages of chili recipes and accompaniments. If you don't have it, order your autographed copy now.
Of course chili is the perfect dish for casual parties or get togethers—or for that matter chili
Is perfect whenever you can get it!!
We have a half price special on the few remaining places in our week long class! They are so much fun and this is the 32nd year of my presenting them. I would love for you to join me!!