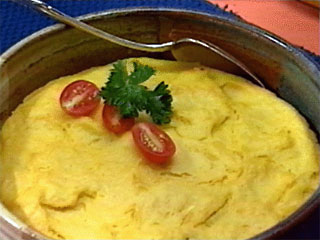 Tamale Pie

 
Click Play Button to Watch Video
TAMALE PIE 
This simple, straightforward tamale pie can be varied by using chicken instead of beef and by adding more vegetables, even chiles, to the filling. 
Yield:  4-6 servings
2 teaspoons butter
6 cups water
1 cup yellow cornmeal
1 teaspoon salt
1 pound ground beef
1 medium-size onion, chopped
1 (about 14-oz.) can whole or stewed tomatoes
2 pimientos, chopped
2 garlic cloves, minced
½ teaspoon pure crushed pequin chile or to taste
1 teaspoon salt
1. Butter a 3-quart casserole dish. Heat three cups of the water to boiling in a large heavy saucepan. Mix cornmeal, salt, and remaining three cups of water together in a bowl and pour into boiling water, stirring constantly.
2. Cook until thickened into a mush, about 30 minutes. Before it cools, line the bottom and sides of the prepared casserole with three-fourths of the mush, reserving remainder for top. Preheat oven to 325F (165C).
3. Put the meat in a large skillet and cook until red color disappears, stirring to break up meat. Add onion and cook until softened. Add tomatoes, pimientos, garlic, and pequin.
4. Spoon meat mixture into lined casserole dish. Cover with reserved mush and bake, uncovered, 2 hours or until filling is bubbly and the topping is browned.