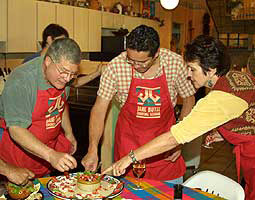 If you can't join us for a Week Long Class, consider a weekend getaway to the lovely village of Corrales, located along the Rio Grande on the outskirts of Albuquerque. The Weekend Classes begin with a get-acquainted reception at 5 p.m. on Friday evening.
You will jump right into the class beginning at 5 p.m. with hints and tips for the evening's recipes. You will cook and enjoy a full dinner complete with Perfect Margaritas.
Saturday and Sunday sessions begin at 8:30 AM with a Southwestern continental breakfast, followed by Jane's review of the history of the cuisine and major ingredients. A demonstration of the menu items for the day follows, along with hints and techniques for success. Typically, you will cook in groups of two or three. Jane and her staff will guide you through the recipes.
Each session concludes with a bountiful meal of the foods you have prepared accompanied with your choice of beverage including appropriate wines and beers. Saturday and Sunday sessions conclude by about 2 p.m.
To view the daily menus, click here.
Saturday afternoon and evening is free to explore the beauty and treasures of New Mexico. See above for information about our visitor's bureaus.

Pricing

Our special full participation class features the Southwest's classic. We are rated by BON APPETIT magazine as one of the four best vacation cooking schools in the world. Class fee includes three individual classes, dinner on Friday, breakfast and lunch Saturday and Sunday, a get-acquainted reception, plus a cookbook, apron and a diploma to take home.
Deposit and Refund Policy: A deposit is required to reserve a space in the class. If a cancellation must be made, a $150 administrative fee will be deducted and every attempt will be made to reschedule. If the cancellation is not made 60 days ahead of time, the fee will be applied to future schools and cannot be refunded. In the event that Jane Butel's Cooking School must alter or cancel the class because of events beyond its control. the fees will be refunded.
Price: Regular price $1050.00.

Scheduling a Team Building or Demonstration Class

To make a Team Building or Demonstration class reservation, call 505-243-2622. A 50 percent deposit is required with your reservation to secure the date. The deposit is calculated using a conservative estimate of attendance. The balance is due 60 days prior to the event.
Transportation

Groups must supply their own transportation.
Cancellation Policy

If a cancellation must be made, there will be a $150.00 administrative fee charged. If the cancellation is made within 60 days of the event, no refund will be given. However, the deposit may be used to reschedule the class. Refunds will be processed within 30 days of the cancellation notice.