Recipes for the Month
Chiltomate Salsa (Mayan Roasted Vegetable Salsa)

Crema de Elote Sopa Con Huitlacoche (Roasted Corn Soup with Corn Truffles)

Oaxacan Style Mole (Chicken in a Complex Chocolate Sauce)

Arroz Con Plantanos (Rice with Plantains)

Tres Leches Cake (Three Milk Cake)

---
CHILE ORDERS
Order your fresh, pure chiles and spices NOW!
SPECIAL MOTHER'S DAY GIFT BOX
Give your Mother the "Gift that Keeps on Giving" and promises healthy, fun cooking at the same time.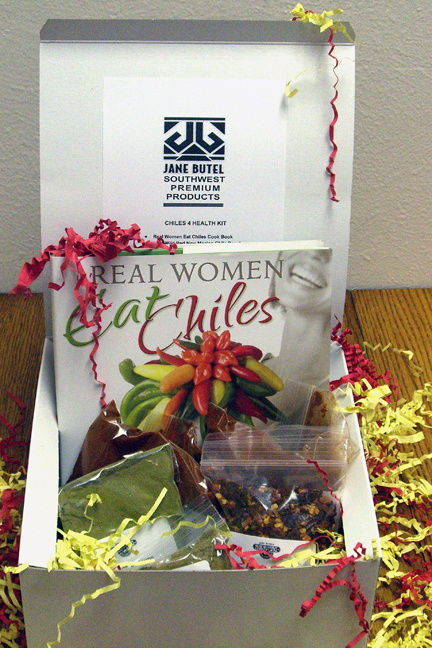 Our special Chiles 4 Health Gift Assortment, normally $46.00 is now on sale for $39.00. (PRICE GOOD UNTIL Included in the set is my popular "Real Women Eat Chiles" cookbook autographed and an assortment of three of our pure, fresh chiles and 2 of the most popular spices for Southwestern cooking.
Order now while there is still time for scheduling optimum delivery!
Schedule Now:
Last month's cooking class at Builders Source was super successful! We all had lots of fun and a good time was had by all.
Builder's Source is a gorgeous appliance store in Albuquerque at 308 Menaul NE. We can only take 30 reservations for each monthly class.
The May menu will feature a Grilling 101 menu: Dallas Style Grilled Flank Steak, Grilled Pork Chops with Caramelized Onions &Orange Salsa, Grilled Chicken Adobo, Raspberry Vinegar Marinated Scallops, Talapia with Hot Orange Salsa.
Call 505-243-2622 to register--or register online. If you have any questions, you can email us at info@janebutelcooking.com.
ALWAYS EAT CHILES AT LEAST 24 OUT OF 30 DAYS!
Have a great month! JANE BUTEL