Recipes of the Month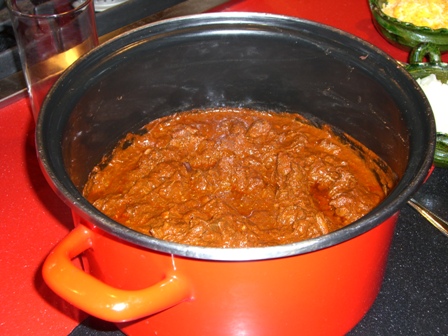 BOWL O' RED: The influence behind this recipe came from my maternal grandfather, who when working with the Santa Fe Railroad learned how to prepare it from the "cookies," or trail cooks. It has won numerous chili cook-offs and is one of the really true original chilis. Full Recipe
CHILI TALKS TURKEY: Leftover turkey lends itself to spices. The only trick to incorporating it in chili is to avoid overcooking it. In this chili the turkey is added during the last 5 minutes or so of cooking time, just before serving. If you don't have leftover turkey on hand, you can use ground turkey sautéed in a bit of oil until cooked through, or diced turkey tenders simmered in chicken broth for about 15 minutes, until just done. Full Recipe
MEXICAN TORTILLA CHILI: Si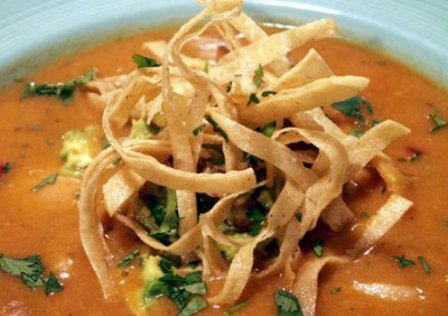 milar to tortilla soup, this spicy veggie chili is delicious. It is made in the Mexican style, whereby the vegetables are grilled prior to being added to the soup-the grilled veggies have deeper, mellower flavors than their raw counterparts. The soup is made in two parts: the flavorful broth is prepared first and then poured over the vegetables. Full Story

Chili Madness Tour

I
will be touring starting January 12 going to Southwestern cities, then on the 19th, I will be traveling to the Midwest and Southern cities. The Northeast is planned for later in February. The complete listing of my tour please click here. I hope to see as many of you as possible while touring. We will soon have cookbooks available for autographing if you can not make it to any of the touring destinations.
During the tour I will be sampling my chilis wherever possible.
Have you joined our new cooking club yet? It's not too late to become a charter member!
You'll see lots of recipes, party planning, chile health information, money saving information—actually you will save more each month than the cost, great wine serving information, "off the plate" party staging information, 3 or more videos you can watch and download, freebies and discounts and lots more.

It is a monthly club with a $9.99 monthly subscription fee. Soon we will be adding interactive discussions and recipe sharing.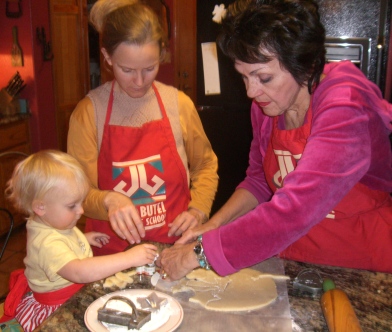 Next month's issue will feature a story about our family's all-time favorite sugar cookie in a story, Kid's Cookie Bake. Not only will you get our recipes, but you will see my 17 month old granddaughter Miri, and my daughter Amy baking the cookies and frosting. This is the second time Miri has baked cutout cookies and frosted them—and she remembered all the steps—she had such a great time!
Learn "All About Chiles" in Our On-Line Class

The on-line classes are lots of fun! You'll learn all the important information about how chiles help your health. Also, you will learn how to tell hotter ones, why hotter is better healthwise, how they help you lose and maintain weight and the exciting history of chiles.

The entire class contains 40 modules or lessons cover—

-how to cook with red chiles
-how to cook with green chiles
-Tex-Mex cooking
-Traditional New Mexican cooking
-Mexican regional cooking
-Quick and easy Mexican cooking
-And, how to create your own recipes using chiles.



In the lessons, I share my all-time, well tested recipes along with grocery and equipment lists. You will get to share your ideas, successes and failures with your classmates on a discussion board and a chat room. Join the fun!

And, as a subscriber to Bytes, you can get this incredible bonus package if you register for the next online session of my "All About Chiles" . The package (valued at $75.00) includes:

An autographed copy of my latest book, "Real Women Eat Chiles"

-8 ounces pure ground mild chiles
-8 ounces pure ground hot chiles
-4 ounces crushed pequin
-4 ounces caribe chiles
-2 ounces Mexican oregano
-2 ounces of our very fresh cumin or comino
Your 40 lessons cost just $499, or just over $10.00 per lesson.

To make sure you are registered, Click here; or if we can help with any questions, just call us at 1-800-473-8226 or email us at info@janebutelcooking.com.

Schedule Your Place in Our Oaxaca Trip

We have just a few places left for our June 2-8 trip to Oaxaca. It is great fun and you'll learn many cooking tips in our full participation cooking classes including the famous moles of Oaxaca. Also, the history and beauty of the region is quite spectacular, to say nothing of the shopping. You can't miss out!! Call us at 1-800-473-8226 with any questions or email us at info@janebutelcooking.com. Check out the itinerary and register online here.
Hints
The new year is a great time to go through your spices and herbs, tossing any that are stale. When you replace the stale ones, keep all your leafy green herbs and chiles in the refrigerator or freezer for indefinite shelf life.
Tips
When freezing foods you have cooked in quantity, such as the chilis in this issue of "Bytes", try placing in freezer-proof plastic bags such as zip-lock freezer bags, in either single or multi-serving quantities. (I often make both—single and double servings for convenience.) Label, date, then place on a cookie sheet and freeze vertically for greatest space saving. Always place all of any one food together, so you can keep track of your inventory.
PLEASE INVITE YOUR FRIENDS TO JOIN BUTEL'S BYTES!