Free Freight for May 1 through 8, 2010 Pecos Valley spcie Co. orders--so stock up now!
Order our pure, fresh chiles and ingredients and for orders of $25.00 or more, you will receive FREE FREIGHT UNTIL MAY 31, 2010.
Click above link to see which CLASS fits best with your schedule.
They are a ton of fun—so much so that we have several who have come back three and four times.
Get in on the fun and schedule your class today!
Sunday Dinner at the April Weekend Class
Our Very Special Northern New Mexico Tour Early Bird Special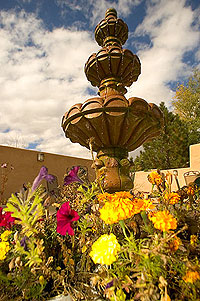 You will definitely have the time of your life with other fun, foodie friends. We are taking you to only the very best restaurants, hotels, B & B' and wineries. Register now in February and you will receive a $300 Early Bird discount per registration. Plus receive an additional 10% off for payment in full.
You will watch some of our very best chef's demonstrating their secret touches and I will lead you all in a full participation class of Northern New Mexico specialties. You can make your reservation on-line or by calling me. The full itinerary is on our website.