Recipes for the Month
Calabacitas Guisadas
Zucchini Fritters
Winter's Pleasure Tomatoes
Fresh Garden Salsa
Mexican Style Grilled Corn with Toppings
CHILE ORDERS
Order your fresh, pure chiles and spices NOW!
SPECIAL CHILI MADNESS GIFT BOX
This attractive Gift Box is just perfect for a hostess gift or for yourself. The book is just loaded with delicious recipes from appetizers to desserts. You can consider this the "Gift that Keeps on Giving" and promises healthy, fun cooking at the same time.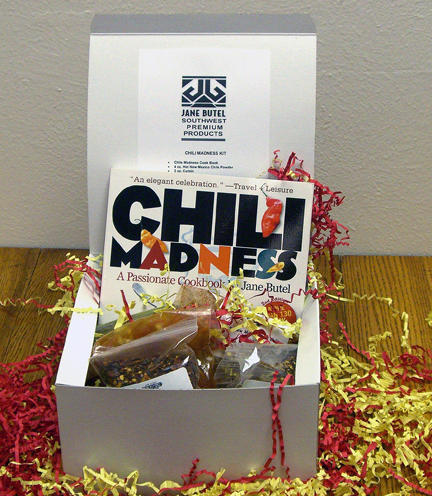 Our special Gift Box contains a Chili Madness, 2nd edition cookbook--autographed, 4 oz. Hot and 4 oz. Mild red New Mexico pure ground chile, 2 oz. Ground Cumin, 2 oz. Ground Mexican Oregano and 2 oz. Pequin Quebrado crushed chile and a DVD on making a Chili Dinner or Party. (The DVD is a $19.95 bonus for Bytes readers.) Cost is just $49.50.
Schedule Now:
There are still 2 openings in our Sept. 13-145, 2013 class and a few openings in the Oct. 18-20, 2013 and Nov. 15-17, 2013.
Our NEW Week long class, November 3-8, 2013 has openings. Schedule NOW!
Call 505-243-2622 to register--or register online. If you have any questions, you can email us at info@janebutelcooking.com.
ALWAYS EAT CHILES AT LEAST 24 OUT OF 30 DAYS!
Have a great month! JANE BUTEL