Recipes for the Month
Chile-Sparked Sweet Potato Soup
Chipotle-Teased Black Bean Pumpkin Soup

Sopa De Tortilla, with Variations

---
CHILE ORDERS
Order your fresh, pure chiles and spices NOW!
SPECIAL MOTHER'S DAY GIFT BOX
Give your Mother the "Gift that Keeps on Giving" and promises healthy, fun cooking at the same time.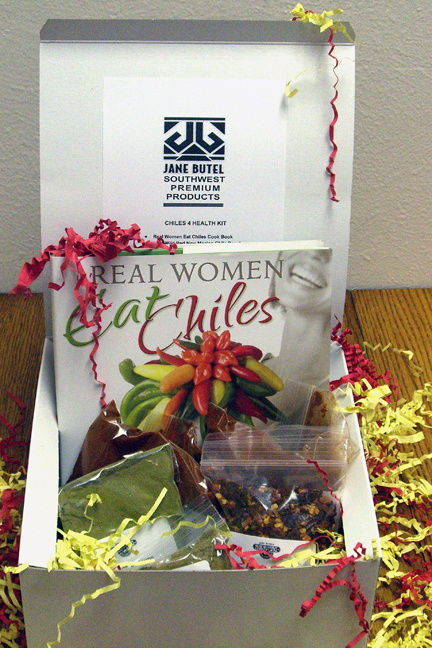 Our special Chiles 4 Health Gift Assortment, normally $46.00 is now on sale for $39.00. (PRICE GOOD UNTIL May 3, 2013 AT MIDNIGHT.) Included in the set is my popular "Real Women Eat Chiles" cookbook autographed and an assortment of three of our pure, fresh chiles and 2 of the most popular spices for Southwestern cooking.
Order now while there is still time for scheduling optimum delivery!
Schedule Now:
Our week long class is April 21-26, 2013 and the last few remaining places are 50% off or $975.00.
Call 505-243-2622 to register--or register online. If you have any questions, you can email us at info@janebutelcooking.com.
ALWAYS EAT CHILES AT LEAST 24 OUT OF 30 DAYS!
Have a great month! JANE BUTEL
Jane's Message April, 2013


Soups on and Let's Get The Seeds in the Ground

With the "busyness" of Spring—seed planting, cleaning everything to get ready for warm weather, and spring fever beckoning more time outdoors—quick and easy suppers seem to fill the bill. I thought you would like some of my favorite quick and delicious soups that can be made in 20 minutes or less with an average of 5 ingredients. By the way these recipes are all from my "Quick and Easy Southwest cookbook" that I am offering as a spring special of $15.00 discounted from $23.00.
Also, we are offering all of our fabulous chile and tomatillo seeds just in time for spring planting at 25% off.
I still have a very few openings for my April 21-26 week long cooking class at half price. We would love to have you join us and it just might be my last as I have been teaching these for the past 30 years, starting in Santa Fe, NM, in 1983. These classes have been great fun and have allowed me to meet and cook with so many wonderful people, many of which I continue to stay in touch. I continue to be very proud that these classes have been rated as the "Best in the US" by Bon Appetit magazine and Gayot.com.
You may register online with the 50% discount.
There is a story on the Ten Best Tex-Mex, New Mex, Mexican restaurants coming out for the May 5 or Cinco de Mayo edition of USA Today, where I was the authority selecting the restaurants. I thought you might like to check it out!!

Coming soon!!!! A cruise with me teaching cooking set for November--details will follow soon!!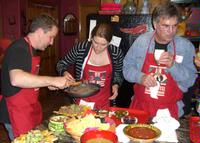 We still have a few openings in our week long class, which very well might be my last. You will have loads of fun cooking with chiles, learning hints, secrets and tips for Southwestern cooking while making tamales, sopaipillas, chile rellenos, Moles, Tres Leches Cake, Flan and much, much more. The complete menus are on my website under cooking schools, at www.janebutelcooking.com.
More on our week long class coming April 21-26, 2013 below--
Get in on the Fun! Register Now for our April 21-26, 2013
Register online or call me at 505-243-2622.