Week-Long Class-
For more information and to sign up, click on the specific dates you are interested in.
NEWS, NEWS, NEWS
Sizzling Half Price Sale on ALL 2016 weekends and week long classes Memorial Day weekend until midnight May 30,2016. Love to cook with YOU!
Check out this new story about our school in the current edition of New Mexico Homes. Just click on this link http://www.newmexicohomes.
com/articles/learn-to-love-southwest-cooking-with-jane-butel-of-corrales
Recent video recipe:
POSOLE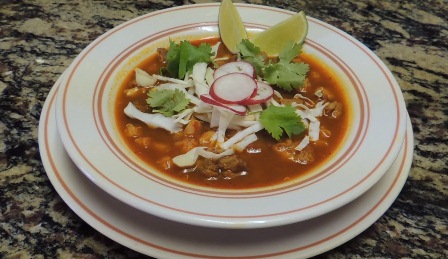 What do you want to see featured on our new blog?
Email us to make suggestions about post features!
Blog link: Southwest Cooking with Jane Butel
♦ ♦ ♦ ♦ ♦ ♦ ♦ ♦ ♦ ♦ ♦ ♦ ♦ ♦ ♦ ♦ ♦
ALL NATURAL SOUTHWESTERN AND MEXICAN INGREDIENTS AVAILABLE
Our wonderful pure, fresh chiles, spices, ingredients and kitchen essentials are in bountiful supply. Order, by selecting the Products key at the top of this page, or click here.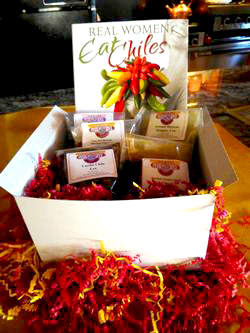 This Chiles 4 Health Gift Box is perfect for spring and summer gift giving.
♦ ♦ ♦ ♦ ♦ ♦ ♦ ♦ ♦ ♦ ♦ ♦ ♦ ♦ ♦ ♦ ♦
The complete book of all the Mexican regional recipes taught in the award winning Fairmont-Princess Cooking School in Scottsdale. Has such favorites as Rellenos en Nogado, Pollo Cauchate, Mayan Chilaquiles and the luscious Tres Leches. cake. Ebook $2.99.
Softbound Printed Edition
$12.95

NOW ON KINDLE FIRE
for $2.99
Chili Madness Cookbook National 19 City Tour

I look forward to meeting as many of you as possible while I am touring the country with my newest cookbook. It has more than 130 new recipes and is now a complete cookbook containing everything from appetizers to desserts and of course lots of new chili recipes. We now have some of the cooking classes and appearances confirmed. More talk shows and feature stories will be scheduled later. As the various interviews firm up, I will give you the schedule and really would love to see you at the events.

The cities I will be touring are—

Albuquerque, NM
Thrusday, April 30, 2009
Chili Madness Book Signing
At Bookworks on Rio Grande NW


Albuquerque, NM
Wednesday, July 8, 2009
Chile and Chili presentation and sampling
at the Albuquerque Public Library, downtown
501 Copper Ave NW, Albuquerque, NM‎
(505) 768-5140‎

Review of Publicity, Photos and Smithsonion Video

Washington D.C
Wednesday, February 25, 2009
The program at the Smithsonian
was a huge hit.
To view the video, click here.

| | | |
| --- | --- | --- |
| | | |
| Phoenix, Arizona | | Atlanta, GA T.V |
| Central Market, Dallas TX | | Chilki TV, Daily Dish, Arizona |
| Cooksware House, Atlanta GA | | Every day With Marcus and Lisa Net Atlanta |
| Fairhope Al Chili For Charity | | Fox in the Morning, Louisville |
| Good Day Colorado | | Good Morning Arizona |

Home
About Jane
Featured Recipes
E-Newsletter
Blog
Books
Products
Calendar
Weekend Classes
Weeklong Classes
Team Building
Online Classes
Culinary Tour to N. New Mexico
Chili Madness Book Tour
Links
Affiliates
Articles
Publicity
Press Room
Coaching & Mentoring
My Account



♦ ♦ ♦ ♦ ♦ ♦ ♦ ♦ ♦ ♦ ♦ ♦ ♦ ♦ ♦ ♦ ♦


Jane Butel's favorite grilled recipes including such favorites as Grilled Chicken with Lemon-Pecan Butter, Spit Roasted Dallas Style Grilled Flank Steak. E-book $2.99.

Softbound Paperback $10.95

Now On Kindle! $2.99