-I heard that some chile pepper plants are perennials, are they, and if so, which ones?
-All pepper plants are perennials if the conditions are favorable (no frost or freezing temperatures). Southern California and Florida (here in the continental U.S.) are probably the only places where you can grow peppers as perennials.
-I have a small chile garden and have noticed that many of the jalapeo chiles get black or dark areas on them as they near maturity. Other than these spots, the chiles seem fine. Can you explain what these are? Is there anything I can do to prevent them?
-This purpling or blackening is due to direct sunlight, and can be avoided by producing a bushier canopy that shades the pods.
-Are ornamental varieties of chiles poisonous?
-There are absolutely no varieties of peppers that are poisonous; all capsicum species are edible. Some of the ornamental varieties just don't taste very good, while others are extremely hot or pungent, which may lead to this misconception; however, there is an ornamental plant called a False Jerusalem Cherry, botanical name, Solanum Capsicastrum, which is poisonous and not intended for consumption. It is not a chile plant, only a relative.
Copyright 2008. All Rights Reserved.
TEX MEX Inc. Privacy Policy.

Jane Butel Cooking School
2655 Pan American NE, Ste F Albuquerque NM 87107
Office: 505-243-2622
info@janebutelcooking.com
| | |
| --- | --- |
| | Books & Video by Jane Butel |
Learn how to cook amazing Southwestern cuisine! Jane Butel is author of over 22 cookbooks and 6 best sellers. These cookbooks are easy to read and full of treasured authentic, well tested Southwestern recipes.

Real Women Eat Chiles
Led by Jane Butel, the "Queen of Chiles" and founder of a uniquely American cuisine, real women who love chiles, and eat them to stay healthy and to spice up their lives, are celebrated in this beautiful and distinctive cookbook.
Real women climb corporate ladders and 20,000-foot mountains. Real women raise corporate profits, kids and garlic. They teach school, host television programs, ride mountain bikes, own commercial gardens, and do manual labor.
Their profiles and brief essays inspire us all to try a little chile...if it works for them, it'll work for us, too! Jane Butel's fantastic recipes are accompanied by a lively discussion of the origins of chiles and their curative properties.
The book is inspirational as well as educational, explaining how chiles work within the body to decrease appetite, stimulate metabolism, and help our immune systems fight off disease. Accented by gorgeous colorful photograpy of several of the recipes, the informative, easy to read chapters are interspersed with profiles of real women who have the healthy habit of eating chiles.
All of them use chiles to enliven meals, and now you can too, by starting to incorporate these delicious recipes into your daily diet. Meet some real women and read about their interesting affinities to chiles while you try Jane Butel's innovative recipes.
Click here for full information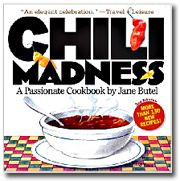 Chili Madness 2nd Edition
Beloved chili. Passionate Chili. Chili, the star of cook-offs, the obsession of societies, and the subject of endless debate over its proper preparation. Has there ever been a better time to be a chili head? This best selling cookbook is even bigger and better then the orginal. That is why we are reintroducing Jane Butel's CHILI MADNESS and making a great cookbook even better. Praised as "an elegant celebration" (travel + leisure) that "chile lovers will love" (New York Post), it's a spicy bestseller.

Quick & Easy Southwestern Cookbook
A collection of over 100 recipes for classic and delicious Southwestern dishes that can all be made in 20 minutes or less with five easy-to-find ingredients or less (with a few exceptions).
Each recipe is developed to be healthy, low fat, low cholesterol and low sodium and has a nutritional breakdown following each recipe.
The book is divided into appetizers, soups, pizzas various entrees, beverages and even Vegetarian favorites are included. In this book, Jane brings a fresh twist to Southwestern favorites.

Regular Price $23.00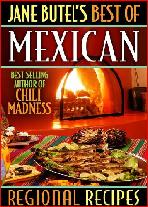 Jane Butel's Best of Mexican Regional Recipes e-Book
DOWNLOADABLE E-BOOK contains every recipe from the classes which cost $1600 to attend. Each recipe is a favorite, authentic, regional Mexican recipe that I have collected from the many years of visiting Mexico since childhood. I simplified them so the authentic, rich, flavors persisted yet they can be made in home kitchens with widely available ingredients.
You will love the flavors you will be able to create and the simple, straight forward, easy to follow instructions. You see the recipes have not only been tested by me-- they have been cooked by each class, so any unclear instructions were clarified.
Red Chile Harvest VHS
Jane guides you through the Red Chile Harvest and all that makes Autumn in New Mexico so special. Learn how to make a Ristra, those lovely strings of ripe peppers to hang at your door and bring good fortune to your home (shown at left). Then learn to prepare Red Chile favorites, such as Carne Adobado, Red Chile Sauce and more. Time: 39:43
Price: $19.95 Sale Price: $5.00
Bowl of Red VHS or DVD
You haven't really had chili until you've had "Bowl of Red." All the inside hints and tips for making the perfect award winning "Bowl of Red" are shown. Jane prepares Fixins' and Mixins' plus Blue Corn and Jalapeno Skillet Bread. Gordon does his Fabulous Frijoles. Time 25:42.